In Spring of 1997, preparation efforts began for what would turn out to be one of the most threatening floods in recorded history. Volunteers answered the call to help with sandbagging efforts that would help fight the flood that came. The community again answered the call and raised sandbag dikes to protect Fargo-Moorhead in 2001, 2006, 2009, 2010, 2011, 2013, and 2019 and prepared sandbags as recently as 2020. During each of these years and in many of the previous years, 'the spirit of the sandbagger' brought everyone together to save the community.
The Spirit of the Sandbagger Project
The Fargo Lions Club, a Fargo service group that was chartered in 1921, sought to create a legacy project to celebrate  its 100-year anniversary in 2021. What better way to commemorate 100 years of community service than a monument, as envisioned by Lion Mike Benson, to recognize the spirit of community service, as exemplified by sandbagging? To honor those who played a role in protecting our city from historic flooding, our club has commissioned and installed this lasting legacy in Riverside Gardens just east of City Hall.
Previous legacy projects of the Fargo Lions Club include the original Statue of Liberty celebrating our 50th anniversary and located on the Main Avenue Bridge, Nature's Playland structures at the Red River Zoo, and establishment of the Lions Conservancy Park in South Fargo.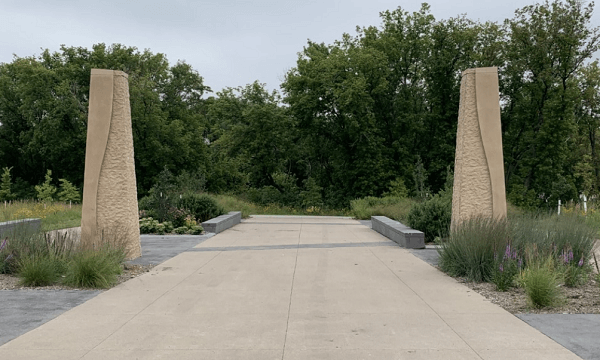 Existing pillars prior to installation of the artwork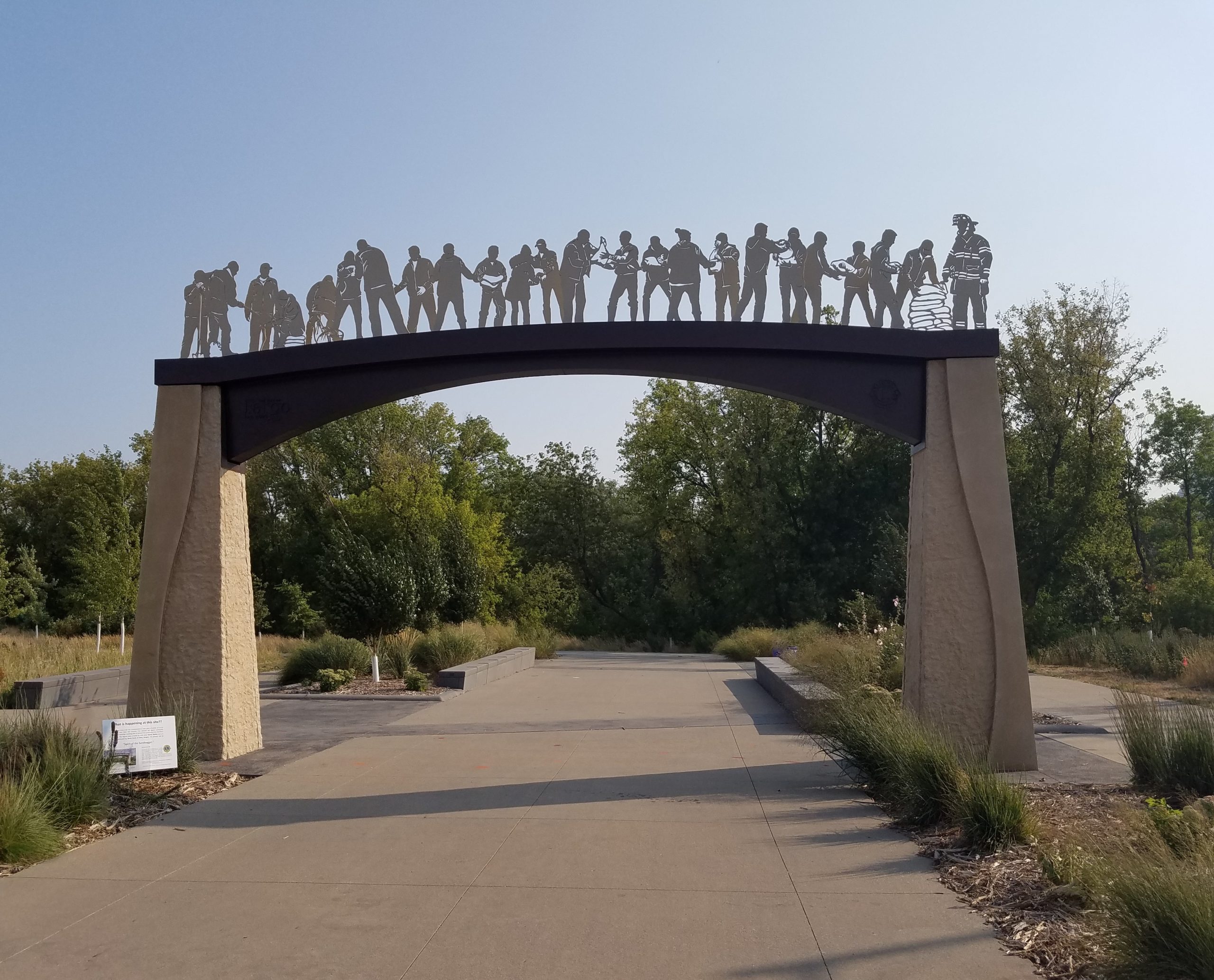 The installed Spirit of the Sandbagger artwork
A Request for Proposal was issued in 2020, resulting in the selection of professional artist Karen Bakke of Bakke Art & Design and metal artist/fabricator Brock Davis of Davis Designs to further develop Benson's vision and create a gateway arch between the existing city-owned pillars to celebrate the spirit, determination and success of the city's residents of all ages, sexes, and backgrounds in fighting the floods.
Fun Fact: The various community members who posed as models, wearing their winter gear, were all active sandbaggers in one or more of our previous flood events. Almost half of them are women, a number of the models were teens when they sandbagged, and most of them are members or family members of the Fargo Lions Club or the artists.
The monument highlights the importance of the community's relationship with the river - through turmoil and calm - and provides a lasting legacy for future generations.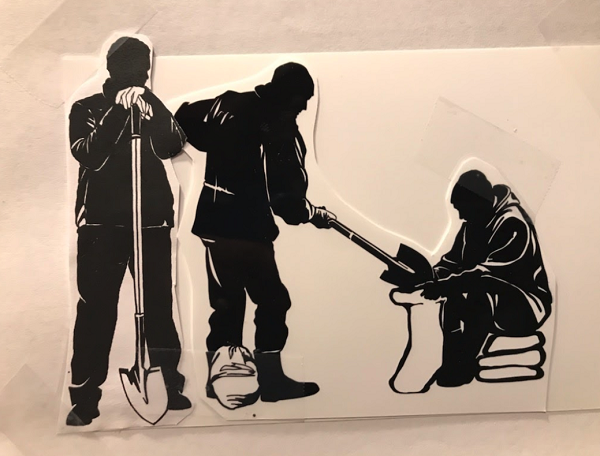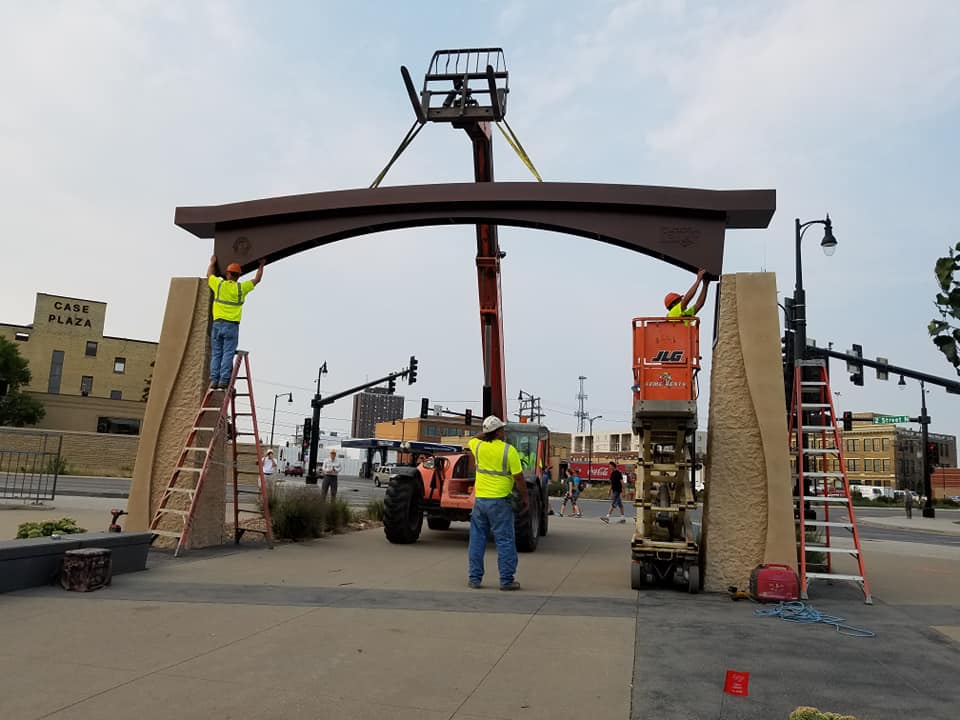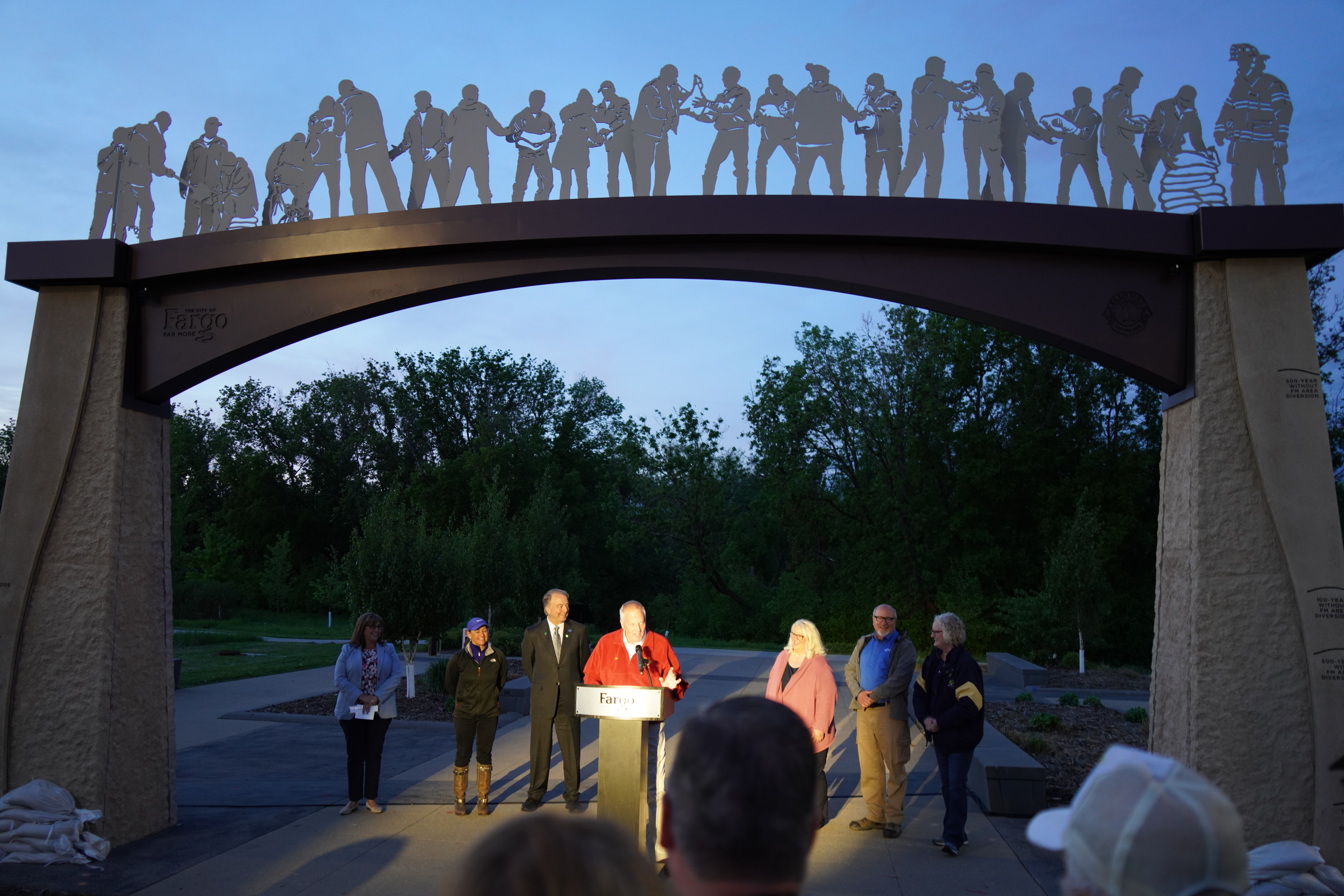 Industrial Builders, Inc. provided experienced crews and equipment to install the arch structure and figures.
Fun Fact: Some of the crew members were also on the crews that installed the floodwall in this area.
The artwork and bridge structure are over 28 feet long, 2 feet deep, and over 6 feet in height. Installed, it stands approximately 17.5 feet high. Lighting fixtures and the electronics to run dynamic lighting options have been installed at the site and were turned on for the first official lighting of the artwork on May 31st, 2022.  This event finalized well over two years of envisioning the artwork, developing that vision, partnering with The City of Fargo communications, engineering, management, and legal professionals, recruiting artists and specialized vendors, site selection, ensuring structural integrity, fundraising, recruiting specialized installation professionals, designing the artwork to ideally hold lighting fixtures, arranging engraving on the pillars, writing content for and ordering the plaques, ensuring the entire site is accessible for all populations, and supporting one another throughout this process! (Whew!)