A public art project to celebrate 100 years of community service.
The Fargo Lions Club is celebrating its 100-year anniversary by having commissioned a public art piece commemorating the Spirit of the Sandbagger.
The artwork illustrates and recognizes the efforts of the thousands of volunteers who answered the call to protect our city from devastating floods. A gateway arch has been designed, fabricated, and installed between the two pillars at Riverside Gardens.
Prairie Public Broadcasting has produced a compilation video documenting the creation of this artwork. View Video.
Viewing the artwork, you will see represented the many men, women and youth who worked tirelessly to save our communities from flooding. Twenty-four figures fill sandbags and pass them along a line to be placed under the supervision of an area firefighter into a sandbag dike. It is difficult to tell if many of the figures are men or women or youth, dressed as they are in their cool weather gear. Perhaps that figure you are looking at represents YOU?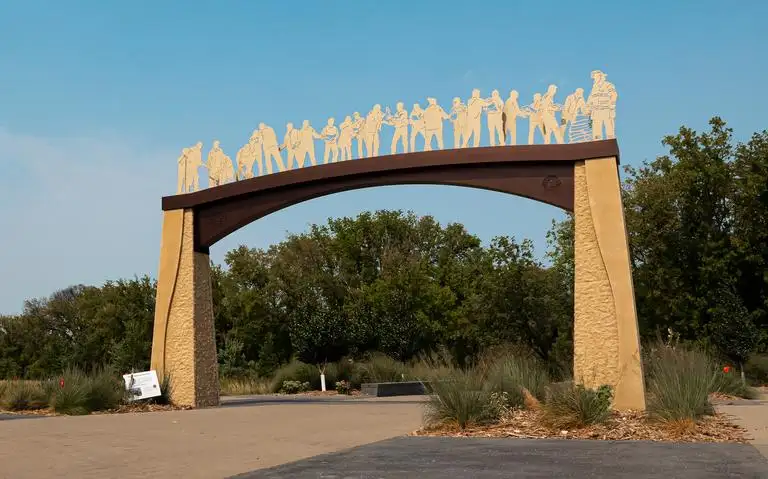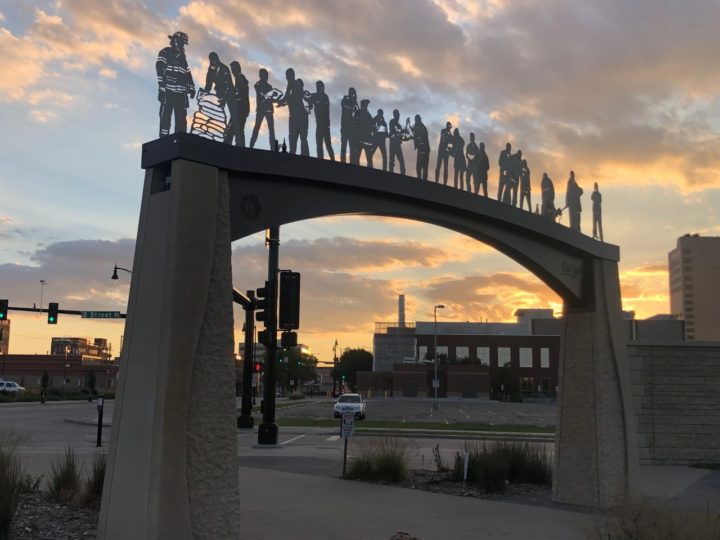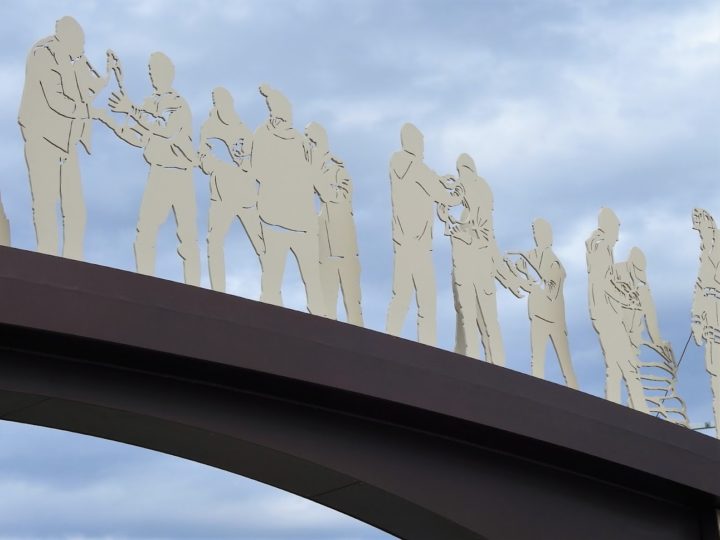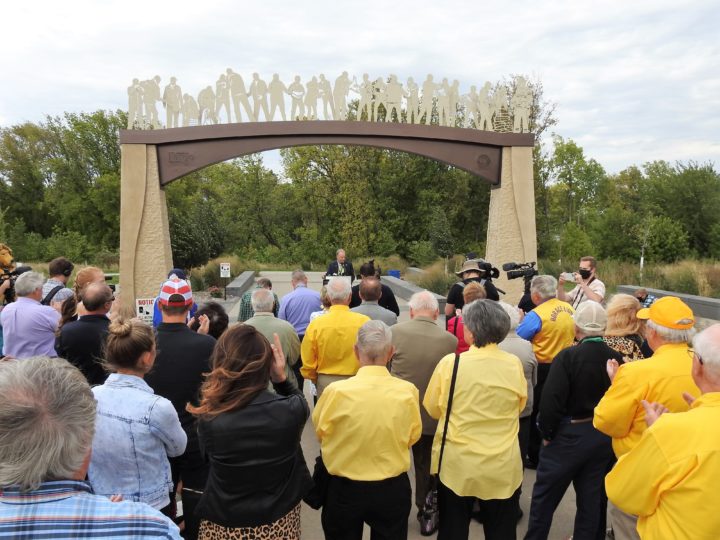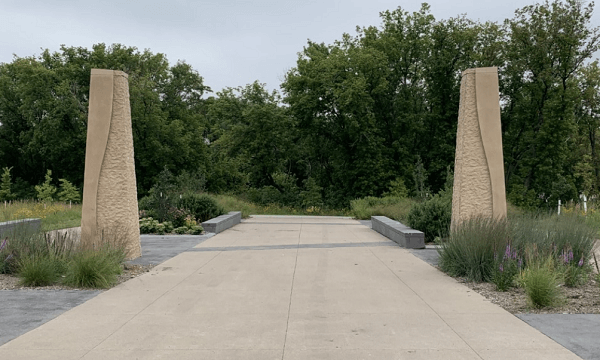 Where we began, what is left to do...
The Spirit of the Sandbagger artwork was installed atop the beautiful pillars constructed a few years ago in Riverside Gardens, just East of Fargo City Hall.
As our weather improves, we will be installing lighting, engraving the pillars with previous flood levels, and installing the descriptive plaques. The plaques are "in" at Dakota Monument; however, we are waiting for the ground to dry out a bit before installing them. (as of 4-6-2022)
Shown in the below image are the Houston Engineering folks who designed the original pillars along with Lion Mike Benson who envisioned this artwork.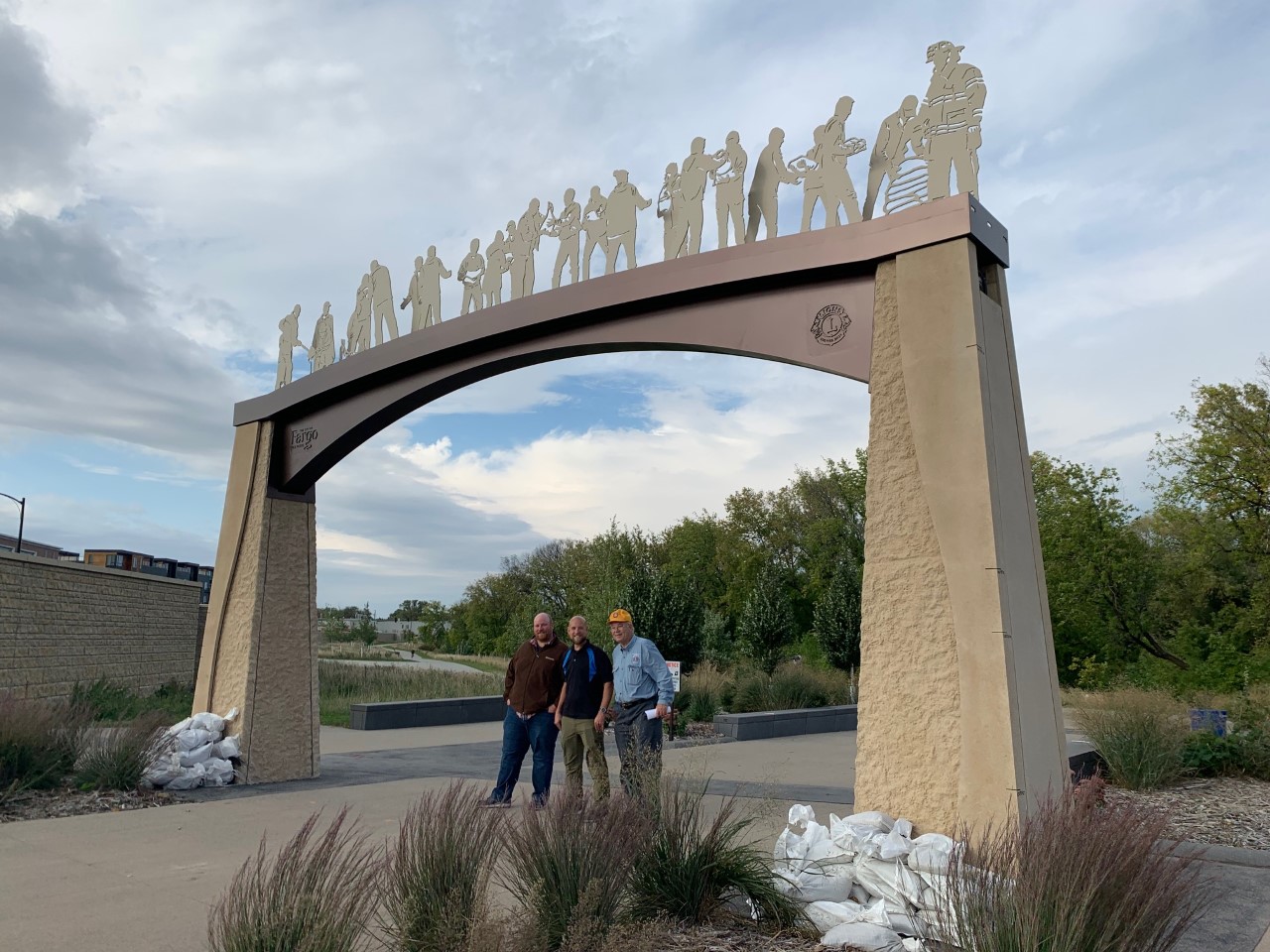 We Invite YOU To Visit the Artwork
The artwork is meant to be visited and seen by every community member and visitors to our community. After all, pretty much EVERYONE helped during sandbagging efforts... whether sandbagging, boxing lunches for sandbaggers, providing transportation, organizing volunteers, creating earthen clay dikes, filling Hesco dikes, providing homes to warm up in, monitoring pumps...
Walk around the sculpture, viewing it from all sides. You may notice some markings on the pillars showing how high the water was in various flood years.
The artwork is located along 2nd Street near the river at 1st Avenue North. You may park in the Fargo City Hall south parking lot.